News: Pocket Tunes v3.1 Released
PocketTunes v3.1 has been released and is now compatible with music subscription services, such as Rhapsody To Go, Napster To Go, and Yahoo! Music Unlimited. It also now supports the StyleTap Platform to run this Palm OS software on the Windows Mobile Treo 700w.
Access millions of songs using Pocket Tunes Deluxe 3.1 along with music subscription services such as Rhapsody To Go, Napster To Go, and Yahoo! Music Unlimited.

Pocket Tunes turns your Palm device into a portable audio player! Play music and audio books from your collection, or subscribe to an online music service to gain access to millions of unique songs! With Pocket Tunes Deluxe, you can even listen to Internet radio anywhere that you have wireless Internet access.
Read below for compatible devices. Online music store access requires Pocket Tunes Deluxe and a paid subscription to one of many compatible music services. Online music store access is only compatible with some devices; please read the compatibility list below or check our web site for updates. Listening to Internet radio may incur data usage charges; please check your wireless data plan before using this feature.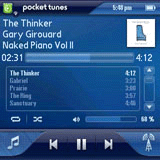 NEW in 3.1! Access millions of songs and audio books from popular online music stores.
Pocket Tunes Deluxe supports all music stores that use Microsoft's Janus technology**. Look for stores with the PlaysForSure logo.
NEW in 3.1.4! Support for StyleTap® Platform on Palm Treo™ 700w
Owners of the StyleTap Platform can now run Pocket Tunes on their Palm Treo 700w smartphone (Requires StyleTap v0.9.126 or greater).
Play music on your Palm-powered device.
Easily play music stored on your device's storage card, internal memory, or hard disk.
Easily copy music.
Pocket Tunes integrates with Windows Media Player, Real Rhapsody, and many other music players on your PC to allow you to quickly and easily copy music to your device. Just plug it in, start Pocket Tunes, and go!
Find music quickly.
Pocket Tunes sorts your music by album, artist, genre, and playlist to allow you to quickly find what you're in the mood for.
Broad range of supported music files.
Pocket Tunes plays MP3, WMA*, PCM WAV, and Ogg Vorbis files.
Use your Palm device normally while music is playing.
You're free to run any other application on your device while playing music or listening to Internet radio.***
Listen to Internet radio.
With Pocket Tunes Deluxe, you can tune into hundreds of ShoutCast or Live365 radio stations on devices with built-in wireless connectivity.
Personalize Pocket Tunes.

Choose from dozens of skins (many of them are free) at
www.pocket-tunes.com/skins/
to make Pocket Tunes your own.
Fine tune your music.
With features like crossfade, gapless playback, a high-fidelity equalizer, and many more, Pocket Tunes allows you unprecedented control over your music listening experience.
Listen to audio books.
Pocket Tunes provides unique features (like bookmarks and auto-bookmarks) to make it a powerful companion when listening to books on the go.
Mix, shuffle, then repeat.
Quickly create playlists or pick songs one-by-one. Turn on the shuffle and repeat options to combine your music in ways you never expected!
Lots more!
Give Pocket Tunes a try, and we guarantee you'll be blown away! If not, contact our superb customer support team, and we'll do our best to make it right!
* WMA Lossless and WMA Professional are not currently supported. WMA playback requires the Deluxe version and is not available in the trial.

** Music stores that we have tested include: Napster, Real Rhapsody, Yahoo! Music Engine. Pocket Tunes supports both subscription and purchased content.

*** Some applications may have excessive CPU or storage requirements and may cause music playback to skip when performing certain operations. We go to great lengths to minimize this as much as possible. Devices with slow processors or hard disks are especially susceptible due to hardware restrictions.
Requirements
Important note about Windows Media Player 11 beta: We are aware of several problems with Windows Media Player 11 beta that causes synchronization with Pocket Tunes to work incorrectly in many cases. We ask that all customers refrain from updating to Windows Media Player 11 until we have added it to our compatibility statement.
Required:
PalmOS 5.2 or later (or Tungsten T).
For online music store support, the following devices are supported: Palm Treo 600, 650, 680, 700p, Zire 31, 71, 72, Tungsten T, T2, T3, T5, C, E, E2, T|X, or LifeDrive.
For all other music playback, any of the following devices are supported: PalmOne Treo 600, Treo 650, Treo 680, Treo 700p, Zire 31, 71, 72, Tungsten T, T2, T3, T5, C, E, E2, T|X, LifeDrive, or Garmin iQue 3600. StyleTap® Platform (v0.9.126 or greater) supported on the Palm Treo 700w smartphone.
820KB memory available on Palm for Pocket Tunes. (The following devices require an additional 625KB of storage space when running Pocket Tunes: Tungsten T, T2, T3, C, E, Treo 600, and Garmin iQue 3600.)
Microsoft Windows XP and Windows Media Player 10 are required for online music store support.
Recommended:
1,100KB memory on Palm handheld (for skins and plugins).

A memory expansion card (256MB or larger recommended).

Wireless Internet connection and service (for streaming audio).

Microsoft Windows XP.

Windows Media Player 10.

Pocket Tunes may work on other PalmOS 5 devices, but they have not been fully tested, and we cannot answer customer support questions about these devices. Note that Sony handhelds are no longer supported due to Sony's decision (nearly 2 years ago) to discontinue its CLIE line of PDAs along with their developer support services.
Download or Buy it Now

There is a FREE 15-day trial of Pocket Tunes available. A 15-day money back guarantee is also offered. Purchase includes email technical support for one year.
Posted by tim_palmzone on Tue, Oct 17, 2006